For those of you who really enjoy delving into my personal life, here are a few more mundane stats about my universe:
Place of Birth: Brigham and Women's Hospital, Boston, Massachusetts
Place of Growing Up: Indialantic, Florida
Place of Higher Education: Evanston, Illinois
Place of Lengthy Sabbatical from Higher Education: Edinburgh, Scotland
Place of Current Residence: Washington, DC
Shoe Size: 10 (US)
Chinese Zodiacal Sign: The Boar
Latest Cooking Craze: Indian cheese (paneer), 1/2 sour kosher pickles
Recent Musical Purchases: Eminem - 8 Mile; Beck- Sea Change; Peter Gabriel- Up; John Coltrane- Blue Train; Tito Puente- Dance Mania, Stereolab- Cobra and Phases
Recent Movies and Rentals: 28 Days Later; The Italian Job; The Matrix Reloaded; The Transporter; Catch Me if You Can
Recent Books: Mapping Human History by Steve Olson; Human Natures by Paul L. Ehrlich; Genes, Peoples and Languages by Luigi Luca Cavalli-Sforza; My Name is Red by Orhan Pamuk; Black Hawk Down and Killing Pablo by Mark Bowden
Magazines I Subscribe to: Popular Photography; Fine Cooking; National Geographic; Consumer Reports
Favorite Beers: Chimay Premiere Belgian Ale; Cantillon Kriekbier; Sierra Nevada Pale Ale; Newcastle Brown Ale; Redhook ESB; BeerLao
Favorite Columnists: Thomas Friedman, Maureen Dowd, Richard Cohen
Favorite Chili: Chipotle
Most Commonly Consumed Food: Bananas
Favorite City: Kathmandu
Favorite TV Character of all time: Frank Pembleton (Andre Braugher), formerly of Homicide
Favorite Crayon Color: Silver
Favorite Place for a Good Time: U Fleku, Prague; El Quatres Gats, Barcelona; the Toone Bar and Puppet Theatre, Brussels (granted, they're all a bit out of the way)
Most Esoteric Essay I've ever written: The Use of Symbols in Stalinist Propoganda During the Annexation of Moldova
Favorite Old World Curse: "C'ai takeissa 'na meda meshona faita a paraqua" ("May he have an accident shaped like an umbrella"), used by Piedmontese Jews in Italy
Favorite Endangered Species: the Manatee
Worst Job Ever: Telemarketer (in college)
Best Job Ever: Equal Employment Opportunity Investigator (in college)
Worst TV Habits: Watching CNN for hours on end, CSI, Law and Order SVU, That 70s Show and assorted cooking shows
Grateful Dead Members I've Had the Pleasure of Meeting: Phil Lesh, Mickey Hart
My Best Interviews: Robyn Hitchcock, Elliott Carter
My Worst Interview: Colin Moulding of XTC (really dreary and terse)
My Favorite Interview: Nusrat Fateh Ali Khan
My Strangest Interview: Tim Burton
Mac or PC: Mac at home, PC at work
Where I spent New Years 2000: Watching the Eiffel Tower fireworks, Trocadero Plaza, Paris
Where I went on my honeymoon: Bali, May 2003
Next vacation plans: Hawaii, for a friend's wedding, Thanksgiving week, November 2003

Finally, if you're still interested in the other career-oriented esotericism which make up my existence, you can also take a look at my slightly outdated resume.

If there are any other useless facts you'd like me to mention here, drop me an e-mail. Don't bother to call.

I always love to hear all comments, criticisms and suggestions concerning EdWeb and anything else you care to talk about.

By email: acarvin@benton.org

By phone: (202) 454-5627

By mail: Andy Carvin, Benton Foundation, 1625 K St. NW, Washington, DC 20006.

And remember. . . .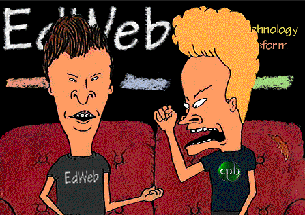 "On the Internet, no one has to know
you're a Beavis and Butthead fan."

home | welcome | what's new | travels | projects | writings | diversions | trivia

Andy Carvin's Waste of Bandwidth. Copyright 1994-present by Andy Carvin (acarvin@benton.org). All Rights Reserved.