For whatever reason I'm one of those people who gets bored easily, so I try to keep busy with a variety of projects.

EdWeb: Exploring Technology and School Reform
My online pride and joy is my website EdWeb: Exploring Technology and School Reform. EdWeb is a hypertextual examination of current trends in communications technology and how these trends are affecting K-12 education. The website is divided into chapters that will allow you to explore how the Internet was invented, major debates in education reform, and a tutorial on how to create web pages, just to name a few. It's been online since October 1994 and happened to be one of the very first websites to suggest that the web could be used as an educational tool in the classroom. NetGuide Magazine even named it as "One of the 50 best places to go online." EdWeb's kept me busy over the last five years but it's been totally worth the effort. Be sure to stop by and check it out.
WWWEDU: The Web and Education List
As EdWeb grew in popularity I quickly began to receive email correspondences from dozens of educators around the world, all eager to talk about the role of the web in education. After a while it became next to impossible for me to respond to everyone in a timely fashion, so it occured to me I could set up a listserv and bring all these people together as a group. So in December 1994 I created WWWEDU: The Web and Education List (that's pronounced 'We Do,' by the way). WWWEDU is a forum for educators, computer people, university researchers, parents, policy types, and anyone else interested in discussing the role of the Web in all forms of learning. Currently, there are about 1500 members from over 40 nations and all 50 states. We tend to talk about all sorts of things, including new educational web sites, acceptable use policies, student publishing ethics, design issues, etc. The list currently resides at listproc@ready.cpb.org. Click onto the address, send a message that says subscribe wwwedu your name (using your name of course) and you'll be added to the discussion. If you want you can also learn more about WWWEDU, or browse through the WWWEDU archive.
From Sideshow to Genocide
Stories of the Cambodian Holocaust
In November 1997 I spent several weeks visiting Southeast Asia. The highlight of the trip was Cambodia, where I experienced the paradox of beauty (Angkor Wat) and darkness (the Khmer Rouge) borne of the same culture. I was so moved by my experience at Phnom Penh's Tuol Sleng prison and the killing fields of Choeung Ek I decided to create a website about Cambodia when I returned to the US. For most of 1998 I developed this website, focusing on the rise and fall of the Khmer Rouge. From Sideshow to Genocide: Stories of the Cambodian Holocaust is an in-depth look at how the Cold War and the Vietnam War spilled into Cambodia in the late 1960s, eventually triggering a horrific bloodbath. In the span of three years, the Khmer Rouge managed to kill and starve nearly two million Cambodians - almost two out of every seven people in a nation the size of the state of Missouri. From Sideshow to Genocide includes three main chapters: a history of the events that led to the Khmer Rouge takeover of Cambodia; life in Cambodia under the Khmer Rouge regime; and first-person accounts of those who were lucky enough to survive it. The website also contains online resources related to Cambodia, the Vietnam War and holocaust studies. As soon as I can I'll also add a section on current events in Cambodia and a collection of lesson plans for use in schools. If you visit any part of my website, I'd strongly encourage you to visit Sideshow. The more people know about genocide, the harder it will be for us to forget.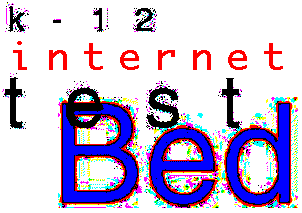 Former Projects:
K-12 Internet Testbed
In May of 1995 I developed an educational technology project known as the K-12 Internet Testbed. The Testbed funded 14 Internet-based educational networking projects around the nation in the hopes of exploring the potential of student electronic publishing in the classroom. The K-12 Internet Testbed utilized the experience of local public broadcasters, universities, museums, and other community institutions as the driving force behind each project's development. Essentially, it was our hope that bringing together the content development experience of the stations with local Internet publishers and and educators would foster new ideas and strategies in K-12 networking. And as far as I know, it was the first national effort to fund student-centered online publishing projects.

home | welcome | what's new | travels | projects | writings | diversions | trivia

Andy Carvin's Waste of Bandwidth. Copyright 1994-present by Andy Carvin (acarvin@benton.org). All Rights Reserved.