November 9
Jerusalem to Tel Aviv;
The Museum of the Diaspora
Though our alarm was set for 7:30am, we were both up around 6am, due to both our long sleep as well as our incessant coughing. By this morning, we felt as if were about to cough up our lungs, and we were forced to endure it until the first cafe opened at 7:30, when we quickly consumed mint tea and apple juice. Then, with a fresh bread purchase in hand, we packed our bags and taxied to the Egged Central Bus Station. Catching the direct bus to Tel Aviv was easier than I expected, and within minutes we were on our way. The bus was an enormous doubledecker and we sat up to. I devilishly thought to myself that if a terrorist charged a bomb into us, it would be the folks on the ground floor of the bus who would get whacked first.
The ride to Tel Aviv took about an hour, during which Susanne slept most of the time. Tel Aviv, as everyone says, is a stark contrast to Jerusalem - it is modern, relaxed, and thoroughly averse to stress and interpersonal conflict. The main streets are lined with sidewalk cafes and trees, something like if the French seized Florida and made Ft. Lauderdale their capital.
We checked into a hotel about two blocks from the Mediterranean and we decided to get lunch, get medicine, and eventually to split up so Susanne could sleep and I could look around. We first hit a felafel stand on Dizengoff Street, and then got some Ben and Jerry's. After that, we went on a wild goose chase to find cold medicine (at first, I led us to the wrong place, because in Hebrew, the food store SuperMart looks a lot like SuperPharm, the local pharmacy chain, and I didn't take the time to translate it well.).
Back at the hotel, Susanne took some medicine, as did I, and then went to sleep. I took a cab to the Museum of the Diaspora, a huge multimedia exhibit similar to the design of the US Holocaust Museum in Washington. My primary reason for going was to use their genealogy database to look up my family's original name, Karawan, in the hopes of shedding more light on the debate of whether my ancestors were caravaners in Persia, or from the city of Kairowan in Tunisia, or neither. As fate would have it, the name Karawan, nor anything similar to it, was listed in the database. Five sheks down the tube.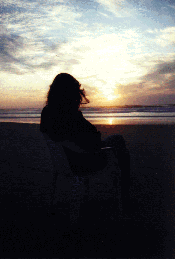 After a dreadfully long bus ride and walk back to the hotel, I woke up Susanne and got her motivated fast enough to watch the sunset over the Mediterranean. Apart from one or two sunsets in Tampa, I'd never seen a good sunset over the ocean before, even though I'd been saturated with ocean sunrises growing up on the Space Coast of Florida. There were clouds on the horizon, but they created amazing light and colour patters in the sky. As we watched, a beautiful young Israeli soldier walked along the shore, with her boots and pants getting soaked as she skimmed along, looking a if she hadn't a care in the world. I wish I had taken her picture.
We stopped at an espresso bar for some great cappuccino and eventually returned to the hotel to bundle up on more clothes (with the sun down, the temperature had dipped into the 40s). We then wandered a bit south to find a cafe I read about in Let's Go. Unfortunately, all of the cafes on that strip had their signs only in Hebrew, and my limited understanding of it left me unable to recognize any word that looked even similar to the name of the cafe. So, we sat down at the one place where we saw people eating, and we were pleased to find out that among other things, they served huge bowls of ramen, udon, and a variety of Asian pasta dishes. We soothed our throats with miso and angel hair while the stereo played the Best of Leonard Cohen, an album that I appreciate but rarely find myself able to listen to, due to its incredible mellowness. Tonight, though, Leonard seemed quite appropriate, since we wanted to take things easy, and, as I recently found out, he's an avid genealogist whose family came from the same part of Lithuania as my mother's family did.
Feeling slightly better from our mainlining of soup, pasta, tea, and cold medicine, we returned to the hotel to write our journals and hope that our sleep would bring us to a healthier state next morning. And now, as I write this, I Hope we'll be in good enough condition to visit Acre and possibly Galilee. Otherwise, it'll be a lazy, sick day in the cafes of Tel Aviv.
Take me to the next entry.
Take me back to the journal index.
Get me outta here and back to Andy's Waste of Bandwidth.



---
EdWeb: Exploring Technology and School Reform, by Andy Carvin. All rights reserved.