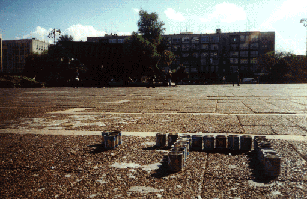 November 10
Tel Aviv, Kikar Malchei Yisrael, and the Wrath of Tut-ankh-amun
Susanne spent the entire night coughing, but managed to sleep later in the early morning hours. I was up around 9am, so I decided to go for a walk to find some food and coffee. It was cool and drizzling a bit, but fortunately, there was a bakery/cafe on Ben Yehuda Street, right by the hotel, so I got an espresso and half a loaf of cinnamon raisin challah and read for a while. When I finished by coffee, I returned to the hotel with the challah and some apple juice for Susanne, who was still asleep. She started to stir, and somewhat groggy, she told me to go spend the day on my own, for she was too sick to travel outside of Tel Aviv. It was now more apparent than ever that our trip north to Acre and the Galil was off, so I figured I'd have to make the most out of another day in Tel Aviv. I wasn't feeling too hot either, so I tried to count our blessings since we were near the end of our trip and we weren't getting ill in some place more isolated, like Luxor.
Leaving Susanne with her juice and bread, I walked over to the beach with the plan to wander south to Old Jaffa. But again, the rain came down, so I retreated to a mall at Opera Tower, one of Tel Aviv's new modern highrises. I got a copy of the Jerusalem Post and another coffee (decaf this time) and read about the assassination investigation. There was also an article on how Kikar Malchei Yisrael, the square where Rabin had been shot, was turning into a shrine of sorts, so I decided that I'd walk up to the square later that afternoon.
Around noon, I checked in on Susanne, and she wasn't feeling too much better. I told her I'd disappear up to the square for a couple of hours and then stop by again to see if she was feeling up to anything. With my camera in my backpack and my umbrella over my head, I walked toward Dizengoff Square, which lie between me and Kikar Malchei Yisrael. The rain finally stopped at Dizengoff, so I spent the rest of the walk shaking my umbrella dry in the hopes of draining it sufficiently to stick it in my backpack.
In about half an hour, I was at the square, which was now being called by everyone Kikar Yitzhak Rabin, a name that would certainly become official in only a matter of days. From a distance, I could see hundreds of people scattered throughout the square, with many of them converging on a postmodernish enclosure in the center, as wells as off to the northern edge of the square, opposite of where I was standing. The enclosure was a large metal structure, not unlike a Calder mobile that had plummeted to the ground, and inside of it stood a flat sculpture of some kind. The outside of the enclosure was covered in graffiti, mostly in Hebrew, but there were also inscriptions in English, such as 'We love You, Yitzhak.' Inside, about a dozen people huddle around the sculpture, which was covered with so many flowers and yarzheit candles it took me a while to realize that the sculpture itself was a star of David. Most of the candles had been extinguished by the rain and wind from earlier that day, so the mourners feebly attempted to re-light the few that weren't completely drenched by water. Some people even drained and dried off candles just to perform this solemn act of remembrance.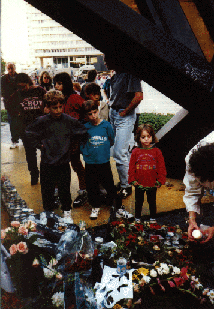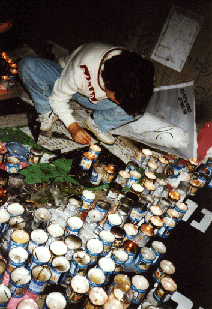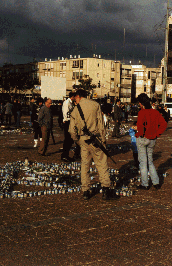 After a few minutes I was able to light a candle, at which time I said Kaddish to myself. Several people took a picture of me while I stood there, which bothered me at first, but then I realized that I too wished to preserve the moment on film, so I had to become comfortable with being on both sides of the lens. I then worked my way to the northern side of the square. There were several thousand people scattered in the distance, as well as many thousands of yarzheit candles on the ground. Hundreds of candles had been arranged in shapes, like a star of David, a dove, or words in Hebrew, like Shalom, or We are all Yitzhak Rabin. I found a group of candles that hadn't been shaped in any way, so I took several dozen of them and spelled one of the few Hebrew words I was positive I would spell correctly - chai, or life.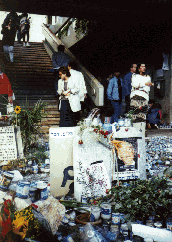 Due north of the square stood the city hall complex and the steps to the parking garage where Rabin was shot by Yigal Amir. Again, there were thousands of candles here, but unlike in the square itself, they remained lit, thanks to an overhang that encircled the area. Huge groups of people were lighting candles, scrawling poems on posterboard, and spraying graffiti wherever they could find room on a wall or floor. The graffiti struck me the most - every inch of sidewalk, wall, telephone box, water hydrant, anything at all, was coated in fresh paint and ink. Most of it, again, was in Hebrew, but I also spotted messages in Arabic, Russian, and French. Among some of the English scrawlings I found 'We miss you, Grandpa,' 'Wish you were here,' and 'Why??' Other areas were decorated with bumper stickers, the most common of which repeated the words of Bill Clinton at the end of his eulogy: Shalom, Haver. Goodbye, my friend. There were also enormous posters of Rabin everywhere - in some places, it felt like an alleyway advertisement for a concert. In the picture, Rabin has a rather stern look on his face, as if he were talking to someone and making an important point - a commanding final pose for the slain soldier and leader.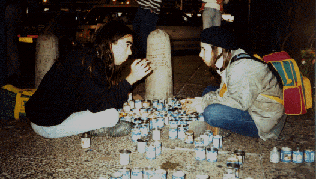 I spent some time taking pictures of people and memorials. It was now past 1:30pm, and even though I told Susanne I'd let her rest until late afternoon, I really thought she should have the opportunity to experience this impromptu memorial for herself. So I hiked back towards the hotel, stopping along the way for more apple juice, crackers, and some bumper stickers that said Shalom Haver and No More Violence in Hebrew. When I asked the store clerk how much they cost, he said, 'Just try to smile and that will do,' and he handed me my shekels back, trying to smile as well.
Susanne was half asleep when I arrived, but as soon as I had finished describing the scene at Kikar Malchei Yisrael, she got motivated and grabbed her camera. She was still quite fatigued, so we took our time getting there, walking for about an hour. For a while I thought she wouldn't make it, but once we got to Frischmann Street at the southern end of the square, the sky started to clear and we could easily see thousands of people looming in the distance. The overwhelming spirit of the event was enough to put her illness aside for a few hours and to take in the experience, as well as to take a few treasurable pictures. We started off at the candle-enveloped sculpture, which now had even more flowers and rivers of wax over it. While Susanne took pictures I tried to light another candle, but ended up burning my thumb instead.
Having walked north, we climbed to the top of the square's raised plaza area, where only a week before Rabin, Shimon Peres, and other Israeli leaders wowed a crowd of over 100,000 at that fateful peace rally. Near the steps where he was killed, an artist was painting a large mural of him, as photohounds clogged around him trying to get that perfect shot. Downstairs, a group of three teenagers kneeled with an Israeli flag, posing for some journalists. Susanne and I agreed that the pose seemed contrived, cold, and artificial, and it seemed more and more like these kids were interested in getting their mugs in HaEretz rather than in expressing their sincere grief.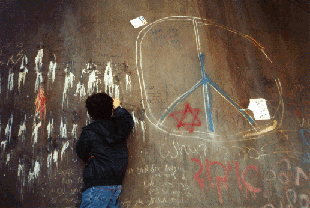 We spent some time watching kids and their parents light candles and tape poems onto the walls. Around the corner I found one of those large posters of Rabin, falling off of the wall. It was covered in graffiti and peace stickers. I started to think that I wanted to bring it home with me, but I asked Susanne whether she thought taking it away would be disrespectful. She and I agreed that over the next few days, much of the temporary memorials would come down and be thrown away, and at least my keeping it would continue to serve as a solemn reminder as long as I possessed it. We gave it a delicate tug, and down it went, exposing even more graffiti behind it. We rolled it up and returned to the sculpture area one last time.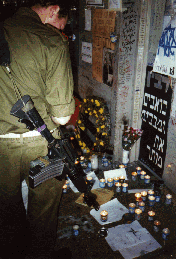 As we were about to leave, Susanne realized that she hadn't lit a candle, so we knelt be the sculpture looking for a candle dry enough to ignite. It took awhile to get one going, and once Susanne's candle was burning well, she offered it to some kids and their mother to help alight theirs. My candle, though, refused to stay lit, so I started to dump used matches into the glass, causing the candle to flame up like a bonfire in miniature. I began to wave my hands around it, causing more oxygen to pass through the flame and thus brightened it. For how long I sat there, mesmerized with the candle's flame, I'm not sure, but eventually Susanne grabbed me by the shoulder and said it was time to go.
After resting and cleaning up back at the hotel, we decided to get dinner on Dizengoff Street. The sun had set and Shabbat was in full swing, so the streets were deserted, as well as devoid of the usually ubiquitous Dan and Egged bus lines. At Dizengoff, there were numerous eateries open, but most of them were kabob and felafel joints, and Mideast food was the last thing our bodies needed. Instead, we opted for an Italian restaurant called Tivoli, where most of the clientele was speaking English. We each ordered an onion soup, and then a small pizza and a bowl of lasagna. The food was warm and fulfilling, but neither of us had the appetite to come close to finishing it. Too bad doggy bags are such a nuisance while backpacking.
Back at the hotel, we packed our bags and arranged for a cab ride with the reception clerk, who was watching The X Files in English. We had to be up at 4:45am and at the airport by 6am if we wanted to make our flight to London.
Take me to the next entry.
Take me back to the journal index.
Get me outta here and back to Andy's Waste of Bandwidth.



---
EdWeb: Exploring Technology and School Reform, by Andy Carvin. All rights reserved.