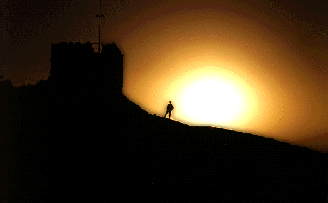 November 8
Climbing Masada; the Dead Sea;
En Gedi; Qumran; Jericho; More of Jerusalem
At 2:30am we were up and ready to go to Masada, despite the freezing cold wind and our lack of breakfast or coffee. For some reason, we chose not to stock up on foods and liquids the night before, and unfortunately, this decision would come back to haunt us. A rickety minibus picked us up around 3am, and then proceeded to load up with backpacking types from a hostel near Damascus Gate. In the pitch of night, we descended into the Dead Sea Valley, a drop of about half a mile to 1200 feet below sea level. While almost everyone else on the bus slept, I sat and observed the descent, wondering just how far down the valley would go before we got to the bottom.
At 4:30am we reached Masada, though at that time we couldn't see a damn thing. The air was thick with the Dead Sea's infamous salt air and humidity. Upon exiting the minibus, the driver tells us, "You have until 7:30 to climb up, enjoy the sunrise, and come back down before we swim in the Dead Sea. Have a good time." The man then vanished, abandoning our group of scruffy backpackers to fend for ourselves and work our way up the Snake Path, Masada's most treacherous way up the 1300-foot rock.
Consumed with dread and cold, we began the climb, zigzagging on an unlit rock path. We talked with a man named Stuart who had also gone to Northwestern, about four years before us. We all used the conversation to distract ourselves from the fact that our bodies were being tortured every foot upward. Though we were huffing and puffing most of the time, Stuart and I were handling the climb fairly well, all things considered. Susanne, on the other hand, appeared to have reached her limit about halfway up the rock, so we told her we'd stop as often as necessary, resting regularly and taking our time for the rest of the climb.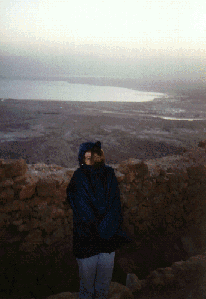 45 minutes after we began our ascent, we reached the top of Masada. Susanne collapsed as soon as she found ample flat earth, while I walked around to avoid getting a cramp. The wind chill at the top was probably less than 30 degrees Fahrenheit, and our sore bodies, protected by the warmest clothes we had - sweatshirts - were not pleased.
It was difficult to appreciate the history and significance of Masada and its ruins while my brain kept repeating, dammit, why can't the sun rise now so we can get off this rock? When the sun finally rose around 6am, it was admittedly spectacular, but I still questioned the overall experiential value of our trek. I was convinced that the frigid wind blasts, combined with our physical overexertion, would be the straw that broke our immune systems' backs, but there was nothing we could do at the time.
We checked out some of the ruins up top, but after 30 minutes or so we had our fill, so Stuart rejoined us and we descended the Snake Path, praying for an open snack bar somewhere below. Of course, the park's snack bar didn't open until 8am, but outside there was this one poor schmuck with bushels of citrus, squeezing fresh grapefruit and orange juice in the freezing cold. I asked how much for a large glass, and he said 10 sheks - $3.30 for a glass of OJ. As ill as we were feeling at the time, the three of us had no choice but to burst out laughing at the price. But in the end, it was our citrus squeezing friend who got the last laugh, for we broke down in sheer desperation and bough a glass, which was quite delicious, thank god.
Eventually, the rest of the group was back at the base of the mountain, so we drove off to the Dead Sea, about 5km from the entrance of Masada. Again, the restaurant there had yet to open, so we decided to get our dips in the sea over with, and then load up on morning nutritional sustenance, no matter the cost.
Susanne and I were both terrified of the Dead Sea, for we were both cut, bruised, and mosquito bitten from head to toe, and the sea's salt content (eight times higher than the ocean) supposedly has a nasty habit of burning all open wounds. We changed into our bathing suits and headed for the water, walking over a beach made of nothing but sharp stones. The sea water wasn't as cold as I had feared, and I noticed that the cut on my foot didn't cause me to scream for a quick death. When I got deep enough for my torso to hit the water, the sea's density became readily apparent as it picked me up, causing me to float at an ackward 45 degree angle. It was truly bizarre. I could roll in the sea almost perpetually, which would have been even easier if I didn't have to keep my head above water at all times, lest I be blinded rather painfully by the salt.
We frolicked around for awhile, with each of us taking turns coming out to the frigid shore to grab someone's camera and take the obligatory look-at-me-I'm-floating-in-the-Dead-Sea! photograph. When I got out of the water I could feel a strange film of minerals and salt envelope my skin as the water evaporated from my body. Parts of me looked like I had dipped an arm in powdered sugar. I also noticed that none of my mosquito bites itched anymore, apart from a fresh one at the back of my neck, which ached almost unbearably once I exited the sea.
We then showered and ate at the overpriced beach restaurant, eventually climbing back into the minibus for a trip to En Gedi, one of Israel's best and most popular nature reserves. Well at least that's what the guide books claim. En Gedi is a rocky patch of desert blessed by a few moderately spectacular waterfalls and even fewer animals. For an entrance fee of three bucks each, we were order by the park rangers to keep quiet, to avoid bother the animals, and to not hurt them, even though the only animals we saw most of the time were flies.
For a half hour we hiked up a thoroughly unsafe path of wet rocks and broken steps. There were two waterfalls on our path. The first looked more like a backdrop from the Jungle Cruise at Disney World, though the rangers there weren't as fun. The second fall, Shulamit Falls, was much more impressive at a height of well over 100 feet, but the water flow was week so it felt more like an outdoor shower than a miniature Niagara, to say the least. As we left the park, we encountered a family of ibex, which to me made the trek a bit more worthwhile. The male ibex had enormous horns, and the mother was accompanied by around half a dozen fawns. We then left the park, grabbed a coke, and waited for our driver to shuttle us to our next stop, Qumran.
When I was young, I thought it would be wonderful to explore the caves of Qumran, in search of another set of Dead Sea Scrolls, just like the young Bedouin boy did there in the late 1940s. Well, not today. The climb to the caves was a good 500 feet and the park service charged a whopping 15 shekels each just to enter the gate, so our jaded group of exhausted travelers stayed down below, outside of the park.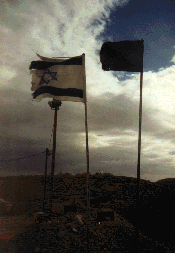 We snapped pictures from a distance while we made fun of the price of the postcards in the shop - two sheks apiece. Yikes.
From Qumran, we entered the heart of the West Bank - Jericho. Jericho had been on my short list of sites to visit ever since we decided to visit the Middle East, but when we got there I was chagrined to find out that Tel Jericho, the 8000 year old city, was now little more than a pile of old rubble. Much more interesting was the modern city of Jericho, the only West Bank town currently under full Palestinian authority. Palestinian flags were everywhere, as were proud, beret-wearing policemen, but overall the city was rather quiet. We stopped for lunch at a rip-off felafel joint, and many in our group seemed convinced that our driver got kickbacks from the owner for dumping us there.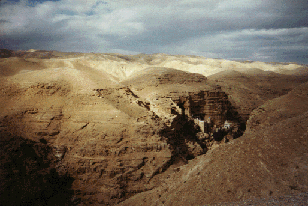 The 'tour' also included stop-and-go photo ops of the Monastery of Temptation and St. George's Monastery, both of which are situated on cliffs in the steep hills above Jericho. It was rather difficult to enjoy this portion of the trip, for only a couple of weeks ago, a bus traversing that same one-lane mountain road fell over the edge, killing everyone on board. When the driver stopped at one location that had a sheer drop, he suggested that we take some pictures, but no one moved an inch, fearing the shift in balance might seal our fate.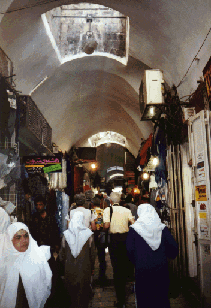 Eventually, our bus dragged itself back to Jerusalem and up the Mount of Olives, where we were afforded a fabulous view of the Old City. the tour was now officially over, so we returned to the hotel and dropped off our bags and wet bathing suits. The sun was going to set in a couple of hours, so we took advantage of our last daylight in Jerusalem, wandering the souks of David St and Khan al-Zeit one last time. At the end of the Khan at Damascus Gate, we found a nice cafe with a superb view of the market. I drink mint tea while we talked to an English Jewish journalist who said he was in town doing stories for The Times and Tattler. He was also a medieval historian at Cambridge in the 70s, so we chatted about the Crusades and other barbaric matters.
We were in desperate need of a nap at this point, so we returned to the hotel to write postcards, work on our journals, and most importantly, shower. Susanne's hair was completely shot by the Dead Sea salts, so she had to condition it for over an hour just to get it untangled. Even my hair required a good 20-minute drenching of Alberto VO5. For dinner, we returned to Yoel Solomon Street and ate at a lovely South American restaurant. We were both feeling terrible at this point, so we absorbed as much soup as we could and then split a wonderful slow-cooked barbecue chicken.
Back to the hotel for some much needed sleep.
Take me to the next entry.
Take me back to the journal index.
Get me outta here and back to Andy's Waste of Bandwidth.



---
EdWeb: Exploring Technology and School Reform, by Andy Carvin. All rights reserved.