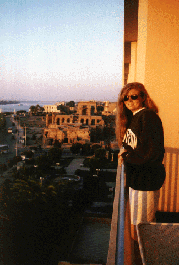 Wednesday, November 1
Luxor, the Valley of the Kings, Thebes
At 5:30 am we got up and packed as fast as possible. We figured we could go downstairs for breakfast, keep our mouths shut, then run up, get our bags, and check out. I was fully prepared to bribe our way out just so we could get away from this pit of despair.
We quickly downed some stale bread and tea, then ran back up to get our things, for Mamdouk's office was still empty. When we got downstairs again, some young boy was tending the front desk, so anti-climactically, we checked out and left without a fuss.
Despite the size of our backpacks, we decided a long walk would do us some good, so we trotted the mile trek to the shore of the Nile and got our first incredible view of the Valley of the Kings, which lied in the distance on the west bank of the river. Because of our hellish first night in Luxor, Susanne and I agreed that we need to spend that next night somewhere nice and safe in order to unwind and get back our sanity. On a lark, I said we should check out the Winter Palace Hotel, Luxor's grandest and most famous hotel, as well as the former palace of Egypt's last king, Farouk. We walked into the atrium of the New Palace, which is just to the left of the hotel's original structure, the Old Palace. It was a beautiful building that wreaked of British colonialism and Victorian splendour.
We asked the reception desk attendant how much a room would be, though we assumed he would say something along the lines of 1000 pounds (i.e., at least 300 dollars). Instead, we were offered a double with a balcony view of the Nile for only $130, Visa or Mastercard accepted. We whipped out our plastic before we could say shukran (thank you) and checked in.
Since our room wouldn't be ready until mid afternoon, we stored our backpacks and headed out for Thebes, taking a ferry across the river for about 30 cents apiece. We started to walk toward the direction of the Valley, ignoring numerous offers from overzealous cabbies, until we realized that as we walked along, the mountains weren't getting any closer. We finally jumped aboard a taxi and rode about four miles to the ticket center, purchasing passes for the Valley, the Temple of Hatshepsut, the Ramasseum, and several other sites. We then found the same cabby and asked for a one-way ride to the Valley of the Kings, which was a circuitous five mile ride around the mountains. Our plan was to spend a couple of hours in the Valley's tombs, then to climb the 1000-foot peak that separated the Valley from the Temple of Hatshepsut, and then to work our way through the sites of Thebes. Our driver, to no surprise, insisted that we hire him for the day for only 100 pounds, but we had gotten pretty good at saying no thanks in Arabic, so we thanked him, paid him his 18 pounds, and got out at the Valley entrance.
I had been warned as to what we should expect upon entering the Valley - many tombs, all teaming with dazed American, Japanese, and EU tourists, all in shorts and safari hats, following talkative tour guides. The warnings were right on the money. The bright landscape of sand and vertical walls of rock were dotted with hundreds of westerners being shuffled along from tomb to tomb. But we figured we weren't in the neighborhood very often, so we did our best to not let the crowds bug us while we hiked around, trying to choose the three tombs we could visit on our ticket. King Tut's tomb was an extra five bucks, and I had been told that there wasn't much to see inside, so we opted out on it. So first, we went to see the tomb of Ramses IX. It was a long, straight underground passageway with incredibly vivid murals and mosaics on the ceiling and walls. A guide from an American tour group explained how the pictures were actually chapters from the legendary Book of the Dead.

Next, we moved along several hundred yards to the isolated passageway that leads to the tomb of Thutmoses III. In order to prevent robbers from breaking into the tomb, the Egyptians built it into the face of a cliff, about 60 feet off the ground. After ascending the metal stairs to the entrance, we climbed downward, over 150 feet into the cliff rock. The tomb must have been at least 110 degrees, and the fans installed inside did little to alleviate the discomfort. But the passageway itself, with its inscriptions and colorful frescos, was magnificent - certainly a suitable home for Thutmoses and the eight other pharaohs that were buried there.

We rested briefly after the sweaty climb out from the tomb, then moved on to the site of Amenhotep III, but we were disappointed to find out that the tomb was temporarily closed. We then chose to visit Ramses III's grave, a crypt so small that only 10 people were allowed inside at a time. The walls of the tomb were de rigeur Book of the Dead mosaics, but in the middle of the room was an immense stone sarcophagus, one of the few that wasn't moved down the Nile to the Egyptian Museum. I was surprised it wasn't roped off in any way - we could touch it, even lean against it, if we had wished. The lone guard didn't seem like he'd react, no matter what we did.

Having ingested our fill of tombs and tourists, we decided it was time to climb the mountain that split the Valley from the rest of Thebes. I had been under the impression that there was a well-trodden path by which we would follow to get to the other side. Instead, there were dozens of almost invisible paths going upward, all of them beginning literally at the small wall that protected tourists from falling rocks. Susanne and I concluded that we could just go up to the top by way of the closest path, and then figure out how to get down once we reached the summit.

The ascent to the top took less than an hour. We probably could have cut that time in half if we hadn't paused every five minutes for water breaks and photo ops. I did my best to put my vertigo aside and to enjoy the view - overall, I was rather successful. The vistas from the various stages of the climb increased proportionally to our altitude. We also encountered several Bedouin locals perched in strategic spots, waiting for the kill - or in this case, to pounce on vulnerable tourists and try to sell them papyrus or to offer hints on how to get back down without getting killed, in exchange for a few pounds baksheesh.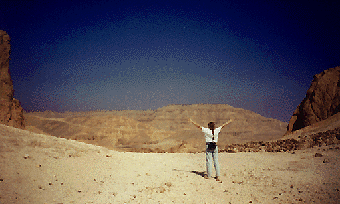 When we reached the top, we could see the Nile in the distance and several miles of papyrus and rice paddies that separated us from it. Closer to our location were bone dry cliffs dotted with caves and empty tombs- perhaps 50 or 60 of them. We could also see some of the ruins of Thebes, but from that distance, we had no idea what was what. But where was the Temple of Hatshepsut?, I wondered. I expected it to be directly below us, but when we looked down, we saw nothing but rock. Perhaps as we wound our way down, I concluded, it would magically appear before us. We would have to wait and see.
As we had feared, the climb down was much more treacherous than the way up, for the paths were all made of small, slippery rocks, mostly pumice and chunks of a cloudy, obsidian-like glass. But after 15 minutes or so, we reached a sandy plateau riddled with donkey dung, which I took as a good sign. The right side of the plateau was a sheer drop, and at first I steered a good 20 feet away from it at all times. But curiosity got the best of me and I cautiously ventured closer to the edge, only to be shocked by the sight of the gloriously massive Temple of Hatshepsut, directly below us, with its marble causeway extending hundreds of feet ahead of it. It also became clear that the path we were following would take us around and to the left of the temple, which would offer us a view that most people see in coffee table books or postcards.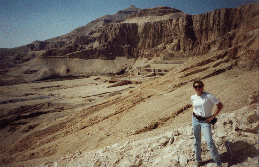 Our excitement grew as we descended the rock cliff. As we neared the final slope, we could see the temple in all of its wonder, from about 250 feet above the ground. We also noticed two tourists climbing towards us with two Bedouin, whom we assumed were hired guides from the way they were gesturing to each other. When they finally reached us, the man said to us in a German accent, "Do you know the best way to get these people off our backs? They keep following us." Susanne and I then began to explain the fine art of shooing off Egyptian hucksters, using great Arabic words like La! (No!) a lot. The two Bedouin were clearly making fun of the fact that we weren't able to explain to these tourists that it's sometimes necessary to be a bit rude when dealing with people who are after your money, so eventually Susanne and I raised our voices at them while the husband and wife attempted to scurry off. But they weren't fast enough and the Bedouin soon caught up with them again, while one of the Egyptians gave me a cunning smile that seemed to say to me "Don't you just love playing this game?" The poor couple continued to respond in English, but their politeness did not cease, so they were still unsuccessful. Clearly they had yet to understand the ugly American skill of telling people to get lost in any language.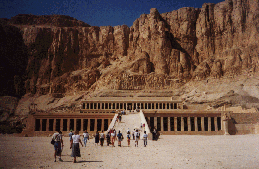 At the bottom of the mountain we loaded up on Coke and water and headed to Hatshepsut. As amazing as the temple was, I think I enjoyed the view from above more than the upclose visit. In addition, the marble causeway that lead up to the center of the temple was closed, so we were only able to explore the colonnade on each side of the temple.
Having explored Hatshepsut, we began the 45 minute walk to the Ramasseum, built by the infamously vain Ramses II around the time of Moses. I saw a small cave off to the side of the road and I convinced Susanne we should take a look. In the end, it wasn't anything special, but when I realized that there were hundreds of caves scattered throughout Thebes, I began to think it would be nice to have a few days here just to delve into every nook and cranny. Another trip, perhaps.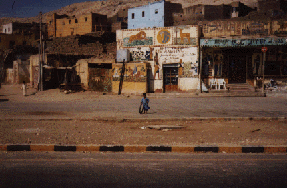 We walked through a long village and were surrounded quickly by small children, some with backpacks from school, just wanting to say hello, others trying to sell us dolls or trinkets with surprisingly precise English and French skills. Susanne must have had at least eight or nine of them around her at once - it looked like a seen from some movie set in the heart of an African village. Admittedly, I was beginning to lose my patience with some of these kids, especially when I saw one of them attempt to unzip a jacket pocket. But as quickly as they had flocked to us, they moved on, and we were left no worse off and with some pictures to boot.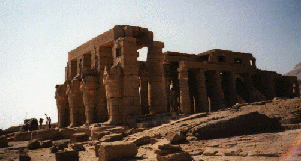 We reached the Ramasseum, which from a distance resembled an open-air warehouse for temple masonry supplies. But upon our entry into the temple itself, we were enveloped by the remains of massive shattered columns, piles of hieroglyphic rubble, and toppled statues of the nom-du-temple himself, Ramses II. To the left of the main temple lay the fallen head and torso of Ramses, whose neck alone was about the size of a VW minibus. Standing on the entrance to the colonnade was a British camera crew who appeared to be interviewing an Arab egyptologist for a documentary. Ever the producer, Susanne insisted on some innocent eavesdropping in order to get a better look of the equipment they were using - Sony Betacam SP, as it turned out.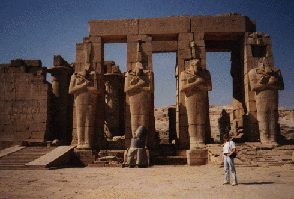 It was now about 2pm and Susanne and I were beat. Granted, we had barely scratched the surface of Thebes that day, but we wanted to stay healthy as long as possible and rest up when we could. Besides, we had both the Temples of Luxor and Karnak to visit the following day, and we didn't want to be templed out so quickly, in the same way we had each become cathedraled out and castled out on previous trips to Europe.

We took a local ferry back to the hotel. This time, it was a truly local boat, packed with hundreds of Luxoreen, especially young boys with bikes who clearly seemed to be discussing the nature of Susanne's blondeness behind our backs. Back at the Winter Palace, we napped a bit and had some salad at the hotel cafe, which was a wonderful blessing, since this was the first time on our trip that we could consume raw vegetables without the fear of catching Pharaoh's Revenge, so to speak. Around 5pm, we hit the pool deck - an enormous pond surrounded by Brighton-like folding chairs, waiters in tuxedos, enormous palm trees, and cages of black and white pigeons. What the hell are we doing here?, we thought in unison, but we concluded that a taste of imperialist Victorian living would scar our psyches permanently.

Back upstairs on our balcony, we watched the sun set over the Nile as ferries and feluccas shimmered along the water. The Temple of Luxor, normally a brilliant site from the right of our balcony, was simply exquisite at this time of day, with an innumerable variety of shadow patterns reflecting of its stones.

Dinner again was at the Palace Cafe. I dared to actually get a cheeseburger, something I normally wouldn't even do back at home. We crashed around 10pm, eager to get a fresh start the next day.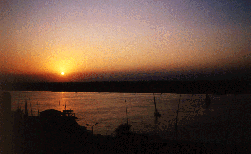 Take me to the next entry.
Take me back to the journal index.
Get me outta here and back to Andy's Waste of Bandwidth.



---
EdWeb: Exploring Technology and School Reform, by Andy Carvin. All rights reserved.