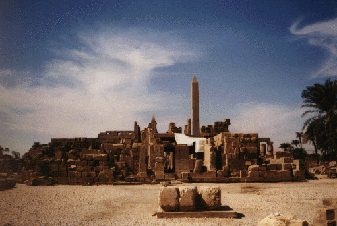 Thursday, November 2
The Temples of Luxor and Karnak;
The Flight to Cairo;
The Bus Ride from Hell to Taba
For the first time on the trip we slept in until about 8am. The Winter Palace's continental breakfast was a massive assortment of rolls, breads, pastries, and specialty croissants, along with trays full of hummus and other yummy local dips. A waiter soon noticed my penchant for consuming tea in mass quantities, so he brought me my own private pot.
We then headed off for a walk to the Luxor Temple, which was just down the street from the hotel, but as it so happened we picked the wrong side of the temple to walk along, for we were unable to find an accessible entrance. Because turning around meant running again a gauntlet of hawkers and taxi folks, we flagged down a horse and carriage to take us to the temple of Karnak first, two miles up the Nile along the corniche. At first the old man driving the carriage was quiet, which was nice, but soon enough he began to insist that we hire him for the morning. We declined again and again, so after half a dozen reaffirmations of our lack of interest, he got the hint.
It was hard to get a solid sense of the true grandeur of Karnak from the outside - it looked like another Ramasseum at a distance. But as we paid for our tickets and entered the gate, it became obvious that this site was the granddaddy temple of them all. The sheer walls of the front of the temple were just as dominant as the walls of the great Hassan mosque in Cairo. Dozens of sphinx and heads of kinds lined the streets. What amazed me the most was that no matter how far we seemed to walk into the temple, there was always more structure looming in front of us than behind, as if the temple went on indefinitely.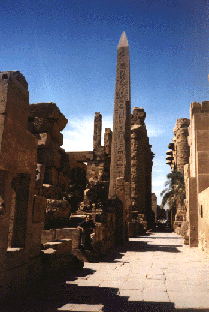 But above all, it was the Karnak colonnade that left the strongest impression on me. As we approached it, we could see five or six columns standing intact, each well over 100 feet high and at least 10 feet in diameter. From where we were standing, it appeared that most of the other columns had toppled over the centuries. "Imagine what it would be like to see scores of these columns still standing," I said to Susanne. "It must have been awesome." Then, we passed through an archway and saw them: over 120 columns, row after row, fully intact. I was dumfounded. This was the image of ancient Egypt I remember from all of those old PBS documentaries, with David Attenborough or some narrator of the like strolling around from column to column, saying, "This temple was the heart of Thebes," etc. Now, I was actually here. I wish it had hit me as much as it's hitting me now as I write this, but no matter what, the sight of all those columns, capped off with the obelisks and endless rows of glyphed walls, will remain etched in me as long as I live.
After working around several large tour groups to get that perfect photo, we headed out, hailed a cab, and drove back down the corniche to the correct entrance to Luxor temple. We had planned originally to take a carriage back, but we had to be at the airport in three ours and we wanted to squeeze in the time necessary to get some lunch after the temple tour.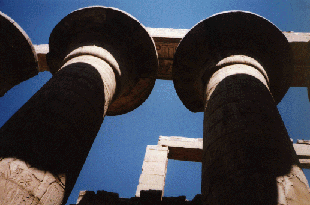 Luxor temple is a much smaller site than Karnak, but equally magnificent. It has withstood the aging process better, for most of the statutory halls and colonnades were close to intact. At the top of the left wall were the colorful remains of a Mosque which appeared to be of Turkish influence. I surmised that when the Seljuk Turks controlled Egypt, they thought it would be a good idea to add their stamp to Egypt's symbol of former greatness. Who knows. Susanne had a few black-and-white shots left in her camera from Thebes, so we went around looking for good lighting. We never really found what we had in mind, but we got a few decent shots nevertheless.
With about 90 minutes before we needed to be back at the airport, we visited our old haunt, the Palace Cafe, one last time for a salad bar, chicken sandwich and hummus feast. We also swung by a local gift shop, perhaps the only one in Luxor where aggressive sales techniques are prohibited. Susanne bought some wood carvings, while I purchased a book on Egypt.
When we got to the airport, we were told to sit for a while until they were ready for check-in. After an hour or so, I went up to the counter and got our boarding passes, but when the porter asked where my bags were going and I said Cairo, he said, which flight? Before I could answer, he said never mind, grabbed my bags, and vanished. I became very paranoid but I wasn't able to find him again, so we headed off to the gate, hoping for the best. As it turns out, the plane was 90 minutes late, which also worried me since we had a bus to catch in Cairo to take us across Sinai to the border crossing of Taba.
As we sat there with about 100 French teenagers, Susanne and I worked on our journals for a bit. I continued once we got on the plane, while Susanne talked with the man next to us, who coincidentally designed all of the graphics used at the Winter Palace. Our flight landed in Cairo with plenty of time to spare but our bags came out of the luggage system rather late, which had me freaking out do to that incident with the porter early that afternoon. Eventually, we cabbed back into Cairo in a slow, smoggy traffic jam.
The bus terminal we needed to get to was right across from the Ramses Hilton and Casino, a true monument to western excess. So, we went into the bar with our backpacks, looking scruffy and totally out of place, and proceeded to have a dinner of peanuts, chips, and a large bottle of Stella - certainly not gourmet dining in my book, but it sufficed.
Over at the bus terminal, we sat outside for about an hour waiting for our coach. Initially, we were the only westerners there, but as time past, more and more backpackers showed up, up to the point that when we boarded the bus, the only language spoken on it was English. It seemed the night would be an eight hour party express, but after 45 minutes of driving, the bus pulled over and the driver said "Taba and Nuweiba?" A few of us looked up and said, yes, that's us. He then said, "Off bus, you change here." Fine by us, we thought, but when we boarded the other coach, we saw it was full of chain-smoking locals. Again, I thought, that's fine. As averse as I am to smokers within my personal space, I'd learn to deal with the fact that everyone in Egypt smokes, and that the concept of non-smoking space was a joke. So, I figured I'd live with it.
Susanne and I put on our night blinders and I stuck in my earplugs, but just as I began to doze off, the driver turned on a TV and began to blast these awful Egyptian commercials, one after another, for well over an hour. Even with my earplugs in place the volume was hurting my ears.
It seemed so strange - here we were in a bus trekking across the Sinai past midnight, yet no one else seemed to mind that the bus driver was going to play loud TV all night. Around 1am, they started some horrible film that was like a cross between a John Woo flick and some low budget Indian melodrama. Lots of guns, screams, and women being mistreated. The sound quality was about as awful as I've ever experienced, with high pitched music an increase in volume anytime a gun went off or a person screamed. Meanwhile, the bus temperature plunged into the 50s as we entered the cold desert of Sinai, and I sat there in my short sleeve shirt, freezing, dehydrated, and giddy from my exhaustion and cynicism.
By 4am the movie had ended and I passed out. While I was in the midst of some odd dream about a plane crash, I was woken up by Susanne, who was shaking me and yelling, "Andy! Andy!" Apparently my earplugs were working too well. Some Egyptian border policeman wanted my passports, which was tucked neatly in my neckpouch under my shirt. Susanne and the man were unable for some time to either wake me up or to get the passport out. According to Susanne, I was thoroughly confused and freaked out when she woke me up, because I forgot I was wearing my night blinders, so I was clawing at my face, trying to regain my vision. It would also seem that I forever changed the psyche of that poor border guy as I went nuts. Sorry about that.
Take me to the next entry.
Take me back to the journal index.
Get me outta here and back to Andy's Waste of Bandwidth.



---
EdWeb: Exploring Technology and School Reform, by Andy Carvin. All rights reserved.