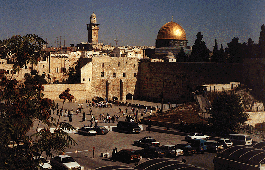 November 6
Crossing the Allenby Bridge from Jordan to the West Bank;
Our First Day in Jerusalem;
The Dome of the Rock, the Western Wall, and the Via Dolorosa
Bright and early, we shlepped our packs to Abdali Station and caught the hour-long ride to Allenby Bridge. We were a bit harsh to the driver at first, since we were so jaded and sick of being scammed by cabbies, but it turned out that he was a sincere driver, charging us a total of only two dinar for the ride. At Allenby, we sat for a while in a fly infested room and eventually got our passports stamped with exit visas. We then sat some more, and eventually boarded at JETT buss that drove us over the actual bridge, which was so small I barely even noticed it. On Israeli soil for the third time in about a week, we went through an enormous scanner and got our passports stamped again. By the time we got through customs, the entire process from the taxi drop-off till then was less than two hours - amazing, for one of the most notorious border crossings in the world, I thought.
Susanne and I caught a sherut (service taxi) to Jerusalem by way of the West Bank. On the whole, the area seemed no more tense than any part of Jordan, for example, apart from the regular cameos of Israeli soldiers, scattered in roadblocks every 20 minutes or so. The sherut eventually dropped us off by Herod's gate in East Jerusalem, so we decided to try to walk to our hotel, which was situated on the west side of the Old City at Jaffa Gate.
We zigzagged through the Muslim Quarter to the Christian Quarter, engrossed by the tight stone streets and continuous hawking of goods and food. In all honesty, we had no idea where we were going until we realized we had been traveling along the Via Dolorosa, Jesus' final walk through Jerusalem before being crucified. It seemed rather ironic that we were burdened by our huge backpacks on these streets while not too far behind us, Christian pilgrims were burdening huge wooden crosses as they traced Jesus' route. The site was almost too fantastic to believe. We exited the Old City at Damascus Gate, not very far from where we had started, and caught a cab to avoid draining ourselves at only 10 in the morning (unlike Jesus, we had the six shekels for a cab ride around town).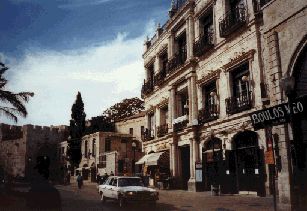 Our hotel, the New Imperial, was a rundown beast which was once the haunt of old-world leaders, including Kaiser Wilhelm. It was an eerie and dark place, with vaulted ceilings and ornate moulding on the walls. The reception clerk was even more creepy, in an evil muppet character kind of way.
After grabbing breakfast at the Moses Restaurant, where our wallets were unduly raped by the proprietor, we headed into the heart of the Old City's souk on David Street. I was surprised at how the streets were completely enclosed, with roofs covering the markets - much of the souk actually felt like it was underground. Every five meters or so on each side was another shop, selling menorahs (seven pronged candelabras, as opposed to the more useful nine pronged Hannukiahs), sheeshas and sundry smoking paraphernalia, and horrendous t-shirts such as "With America on our side, Israel can do anything!" with the obligatory graphic of an F-15, uzi, or something of the like.
At the end of David Street, not too far from the intersection of the Khan al-Zeit souk, there were several heavily armed soldier guarding the entrance to the Dome of the Rock. We had been warned that the Dome plaza was often closed arbitrarily, but I was pleasantly surprised when the soldiers informed us that it was open that day. We climbed through the small entrance and ascended the plaza steps to where the Dome of the Rock and the Al-Aqsa Mosques reside.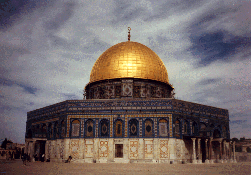 Over the week and a half that had preceded that moment, I had seen many wondrous things, but nothing caught me off guard as did the Dome of the Rock. From the outside, it is absolutely magnificent, with its gold plated dome and thousands of blue and white tiles. I found it almost impossible to believe that this mosque had stood at this spot for over 1200 years.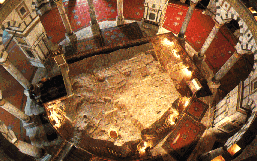 After leaving our shoes, bags and cameras outside, we entered the Dome, which was more ornate than any cathedral or synagogue I had ever visited. In the center of the Dome, of course, was the Rock - literally, hundreds of square feet of the tip of Mount Moriah, where Abraham tried to sacrifice Isaac and where Muhammad made his Night Flight to Jerusalem and ascended to heaven. We weren't able to touch the rock, but standing there right next to it was an incredibly weird moment in its own right. And considering that less than 48 hours earlier, another Isaac (or in Hebrew, Yitzhak), had been successfully sacrificed in the name of Israel, the irony of the moment did not escape us.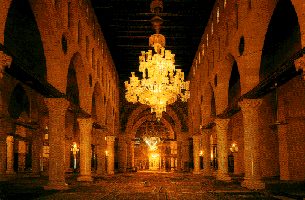 Next to the Dome, across the tree- and fountain-lined marble plaza, stands the al-Aqsa Mosque, built in the eighth century. Though not as grand as the Dome from the outside, its interior was splendid, almost Romanesque in design. The Muslim gatekeeper who took our tickets asked us, "Are you carrying any cameras? Guns? Explosives?" I smiled politely and said, "No, not today, shukran." He smiled back somewhat bittersweetly and put his hand on my back. Though on paper this might sound like a rather ackward moment, but in reality it was quite funny and I was set at ease by the keeper's making light of the moment.
We now had a fateful decision to make. The funerary procession from the Knesset to Mount Herzl Cemetery, both in West Jerusalem, was about to get underway, and there was just enough time to get to the parade route. But when we arrived in Jerusalem earlier that morning, we had been told that the line to view his casket was over 5km long and that about one million Israelis had already assembled for the procession. Therefore, our chances of getting anywhere near the event was pretty grim. Additionally, at precisely 2pm, at the opening of the funeral itself, there would be a two-minute nationwide moment of silence, marked by air raid sirens around the country. In the end, we decided to be at the Western Wall for that moment. The Wall was very close to where we were at the time, and it seemed like an appropriate way to honor Rabin's memory.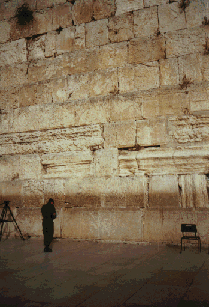 We arrived at the Western Wall around 1:45pm. I was struck by the rather small crowd that had assembled there. I suppose that most Israelis were either watching the funeral on TV or they were lining the processional route. Susanne and I stood away from the wall in front of the partition that separates praying men from praying women. We stood there until around 3 minutes to 2pm, then we split up and headed for our respective parts of the Wall. I took a paper yarmulke, grabbed a chair which was pressed against the Wall, and sat down. I then ripped out a strip of paper from the back of my Let's Go and wrote two messages - a memorial for my grandfather from my family, and another in memory of Rabin. I put the note in a crack in the Wall about three feet above the ground. I then stood up, and suddenly, the sirens went off. For the first minute I stood there, blank to the world, with my head down and my palms resting against the cool stones of the Second Temple. I then turned around and saw several hundred people, outside of the partitioned Wall area, all standing with their heads down. The only noticeable dissenter was a lone Hasid standing to the left of me, who continued to chant to himself without pause. The sirens ended, I stood for another minute or so, then I turned around to leave the Wall and meet Susanne beyond the partition.
We deglazed our minds for about 15 minutes and then headed off to begin the Via Dolorosa. The Via is divided into 14 stations, each point marking a specific incident in the New Testament's retelling of how Jesus walked through Jerusalem before his death. Being Jewish, I wasn't moved in the same way that Susanne was (she's Catholic), but I have to admit I was somewhat taken aback by the mental imagery it provoked. Then again, my only exposure to the Via Dolorosa comes from scenes in Scorsese's Last Temptation of Christ, so the entire time I walked along, I pictured a beat-up looking Willem Dafoe moving from station to station, with a satisfied David Bowie as Pilate starting off the whole event.
I was also struck at how one had to travel the Via in order to visit all 14 stations. For example, sometimes you would take a right, walk down 100 yards, see the station, backtrack, and continue on the original path. This confusion only compounded my image of poor Willem Dafoe, cross on his shoulder, wandering lost and not exactly sure as to where to go next. Granting, I can't exactly claim that Old Jerusalem's current street patterns match the streets two thousand years ago, which would certainly explain the scattershot connection between the stations.
Finally, we reached the Church of the Holy Sepulchre, the decrepit old church where Golgotha and the tomb of Jesus are now enclosed. The inside was much more impressive than the outside, but still very worn down by tourist-attracting church standards. Inside we took the stairs up to Golgotha, the place at which Jesus was supposedly crucified. The spot was marked by a life-size depiction of Jesus on a cross, surrounded by scores of candles, icons, and prayers in Greek, Aramaic and Latin. Susanne lit a candle and prayed for a moment while I took pictures. Back downstairs, we visited the tomb of Jesus, which now rests in a tiny crypt surrounded by a small chapel, each part bedecked with Orthodox iconography. Inside the crypt with us were some Russian Orthodox pilgrims who were moved by the experience, to put it mildly. Once again, I was fascinated by the sight of it but not really moved in any spiritual sense.
Having completed the Via Dolorosa, we backtracked to the Khan al-Zeit souk, where we picked up some soda and an assortment of baklawa-related pastries. We brought them to a spot in front of our hotel, right beside King David's Tower at Jaffa gate, and noshed heartily.
As the sun set, we tried to plan the rest of the week, including a decision to take a sunrise trip to Masada on Wednesday. We then shopped in the David Street souk for a while until the shops began to close, when we then picked up a light dinner by the hotel. Around 8pm, we decided to walk over to the King David Hotel in West Jerusalem. Supposedly it has a great bar and we were curious to see if any heads of state were still hanging about, considering that all of the post-funeral summits had taken place at the hotel. As it turned out, to no surprise, some leaders were still staying there, so Israeli Shin Bet security people didn't even let us get near the place.
We headed north on a rather circuitous route to Yoel Solomon Street, in the heart of West Jerusalem's city center, Kikar Tziona. It was a compact, thin neighborhood not unlike Brussels' restaurant district, with many sidewalk cafes and eateries all packed to the brim. We went to a bar called the Rock, a dark little place which was blasting Peter Gabriel's recent live album. I had a pint of Amstel (which was nice, since only Amstel Light is available in the US) and Susanne had a bloody mary, which I thought was quite good despite my usual abhorrence for both vodka and tomato juice. To top off a rather holy day, we sinfully indulged ourselves in a huge plate of a pineapple-based Neapolitan ice cream sundae. I figured that I had been forced to poke two new holes in my belt in less than 10 days to keep my pants from falling off, so a bit of Epicurean pleasure every now and then wouldn't kill me this time.
Take me to the next entry.
Take me back to the journal index.
Get me outta here and back to Andy's Waste of Bandwidth.



---
EdWeb: Exploring Technology and School Reform, by Andy Carvin. All rights reserved.