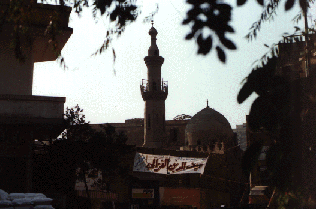 Sunday, October 29
Adventures in Islamic Cairo
After a pleasant breakfast of breads, cheeses, and heavy Cairene instant coffee, we started to walk in a direction we though would lead us from Midan Ramsis, in the north end of New Cairo, through old Islamic Cairo to Muhammad Ali's Citadel, four miles down towards the southeast corner of the city. Instead, we got lost in a seemingly endless maze of alleys. Cairenes crowded every corner, some smoking sheeshas and playing backgammon at an impromptu cafe stand, others selling fruit, spices, or freshly killed meat, directly off of their mule-driven carts. Kids played football with cans or plastic bottles, and everything carried the same incredible smell, a curious melange of tahina, roasted yams, tobacco, and trash. Despite the fact that we were the only two Anglos in a sea of North Africans, we felt quite comfortable and not self-conscious. On the whole, our presence was ignored apart from occasional groups of small boys who would walk by yelling, "Hello! Hello!" Not an uncommon occurrence in Cairo, as it turns out.
After soaking in the sights and smells of this north Cairo souk, unmolested by other khawagas such as ourselves, we found a main street teaming with buses and black and white taxis. To our chagrin, all of the street signs were in Arabic, so we soon lost track of our exact position on our map.
I hailed a taxi and we climbed in. The man spoke no English whatsoever, and I couldn't remember the Arabic word for Citadel, so I naively assumed that he might at least recognize the word Citadel in English. I was proven wrong, though he refused to admit he didn't know. We drove around in circles for about 45 minutes and eventually got out of the car, paying the man about five pounds for our circuitous excursion.
We walked along the street and soon stopped in a cafe for a coke and some pitas. The locals were all dressed up in suits and fashionable clothing, so it was pretty clear to us we had reached the business district of downtown modern Cairo. This helped us get our bearings on the map and we walked over to the local tourist office to get a more detailed map. We also swung around the corner to the Windsor Hotel, where Michael Palin stayed while filming Around the World in 80 Days.
We continued to walk west for about 30 minutes and soon found ourselves in the heart of Khan al-Khalili, Cairo's famous bazaar and the largest souk in the Islamic world. We were regularly hounded by people trying to drag us into one of the many Mamluk mosques that peppered the neighborhoods. Nonetheless, the alleyways and streets were teaming with life and people, especially kids selling fresh fruit and trinkets.
We walked further along, past the edge of Al-Ahzar, the oldest university in the world. A half-blinded old man convinced us to enter a mosque, where he said a group of Sufi women were about to dance, but there was no one there apart from a small study group encircled on the floor. Ironically, when I tried to pay him the several pounds he had requested for our uneventful tour of the mosque, the change he handed me back equaled the amount I gave him in the first place.
We then walked south through the heart of Islamic Cairo, where Susanne was the only woman not fully draped from head to toe in the traditional black garb worn by many Muslim women in the Arab world. Yet on the whole, we weren't singled out by anyone, except by more kids who pummeled us with cries of "Hello! Hello!" and "Welcome!" But before we knew it, we found ourselves standing in front of the great Hassan Mosque, the enormous madrassa built by the Mamluk sultan Hassan. The inside was like a deserted sephardic synagogue on a much grander scale, with ceilings easily reaching over 100 feet. A muezzin demonstrated the call to prayer, which echoed throughout the building, and then asked us for baksheesh of 50 piastres, which seemed well worth the price.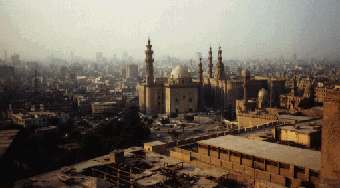 Behind the Hassan Mosque stands the Citadel, perhaps Cairo's most famous landmark. Upon reaching the entrance at the top of a hill, I was reminded of Edinburgh Castle, with its similar fortress design and collections of military museums. The centerpiece of the Citadel, the Muhammad Ali Mosque, is an ornate gem of 19th century architecture, a combination of traditional Islamic design and French decorated, which Ali admired greatly.
After descending the winding hill road from the top of the Citadel, we walked back about three miles to Tahrir Square, the central hub of downtown Cairo. We tried in vain to find a restaurant recommended by our guidebook, so we walked north to Talaat Harb Street into the Felfella Restaurant. We feasted on plates of felafel, foul, and pita, so much so that when we returned to the hotel, Susanne got ill and had trouble falling asleep.
Take me to the next entry.
Take me back to the journal index.
Get me outta here and back to Andy's Waste of Bandwidth.



---
EdWeb: Exploring Technology and School Reform, by Andy Carvin. All rights reserved.